Wednesday, March 17, 2010
On DVD
PRECIOUS
Monster's Ball producer Lee Daniels follows up his 2005 directorial debut, Shadowboxer, with this adaptation of author Sapphire's best-selling novel about an overweight, illiterate African-American teen from ..Harlem.. who discovers an alternate path in life after she begins attending a new school. Clareece "Precious" Jones is only a teenager, yet she's about to give birth to her second child. Unable to read or write, Clareece shows little prospect for the future until discovering that she has been accepted into an alternative school. There, with a little help from a sympathetic teacher (Paula Patton) and a kindly nurse (Lenny Kravitiz), the young girl receives something that most teens never get -- a chance to start over. Mo'nique co-stars in an inspirational drama featuring the debut performance of screen newcomer Gabourey "Gabbie" Sidibe. ~ Jason Buchanan, All Movie Guide
Director: Lee Daniels
Release Date: Nov 06, 2009
Rated R for child abuse including sexual assault, and pervasive language.
Runtime: 1 hr. 49 min.
Genres: Drama
Cast: Gabourey Sidibe, Lenny Kravitz, Paula Patton, Mo'Nique, Mariah Carey.
Review:
First and foremost this film's plot is something that's probably already done on Lifetime at one point of another. Had the director not been able to get such wonderful performances from his cast, this film probably would have come and gone with little notice. Daniel's direction is fairly rudimentary only occasionally does he give the film some creative flair. Lee Daniel's real strength lies on his ability to pull out such strong performances from his much praised and awarded cast. It's a truly impressive feat that elevates this film. Gabourey Sidibe comes across as authentic throughout, so much so that it feels like a documentary at times. Mo'Nique is just terrifying throughout, he character just seethes with anger and self pity. Paula Patton has been mostly overlooked but she provides a steadiness to the film, her performance is easy to overlook but it shouldn't be. Mariah Carey is just as effective, shedding nearly all of her pretension and glam for a grounded performance. Precious is a difficult movie to sit through and probably not one you'd be quick to revisit. It is an actor's movie through and through and the entire cast delivers stellar work deserving of all the praise.
B+
BOONDOCK SAINTS 2: ALL SAINTS DAY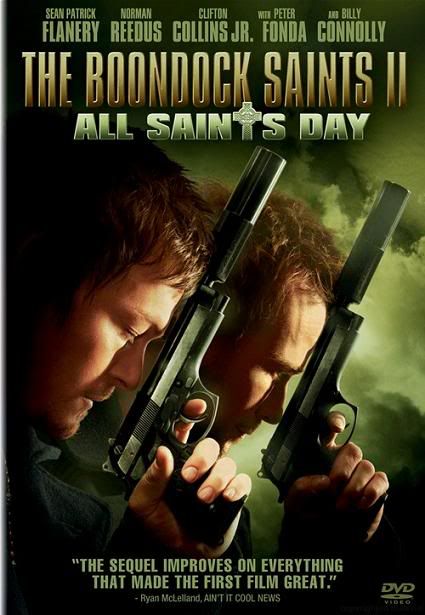 Boondock Saints, the 2000 crime picture renowned for the unique story of the fast rise
and fall of its egomaniacal filmmaker, Troy Duffy, as well as the cult following that appeared later on home release, gets the sequel treatment with this follow-up. Sean Patrick Flanery and Norman Reedus reunite as the vigilante MacManus brothers, with Billy Connolly returning as Il Duce. Duffy once again directs from his own script, with Clifton Collins Jr., Julie Benz, and David Della Rocco filling out the rest of the cast. ~ Jeremy Wheeler, All Movie Guide
Director: Troy Duffy
Release Date: Oct 30, 2009
Rated R for bloody violence, some nudity and language
Runtime: 1 hr. 27 min.
Genres: Action
Cast: Sean Patrick Flanery, Norman Reedus, Billy Connolly, Clifton Collins, Jr., Julie Benz.
Review:
The original Boondock Saint's was a movie I really wanted to love and just couldn't ever warm up too for some reason. The entire thing seemed terribly derivative and amateurish. That's not to say that Duffy's film didn't have a few inspired moment but it just seemed lacking and I still can't quite understand the fascination with it. Duffy seemed to have some interesting concepts but his prowess as a writer and director seemed lacking. I was expecting Duffy's follow up would be something akin to Sam Raimi or Robert Rodriguez follow ups to cult hits. Sadly, Duffy seems stuck in the mud. The sequel gives us a more steady directorial hand but the writing borders on horrid various times throughout the proceedings. The characters are all underwritten, the plot generic and the attempts are humor are terribly sophomoric. Sean Patrick Flanery and Norman Reedus return do the best they can with the roles but they seem more like an after thought for some reason. Julie Benz, working with one of the worse Southern accents in recent memory, is never believable. Her character's spot as William Dafoe's replacement here doesn't work and she simply becomes grating as the film proceeds. Clifton Collins Jr., who's usually solid in manic character's, is generally wasted and generally seems disinterested as he utters some terrible dialogue. This is something that kind of a recurring theme throughout as the actors lack any energy or conviction. Duffy doesn't seem capable of getting strong performances out of his cast, it was a problem that plagued the first film and is equally problematic here. Billy Connolly seems to be the only one actually trying and he's got the least screen time of anyone. Once the film ends, I was left with the same feeling after watching the first one. I wanted to like it a lot more than I did. The ideas could be interesting and witty but they are executed so poorly that it's hard to enjoy it.
C-
COUPLE'S RETREAT
Their relationship in danger of dissipating, a couple racing to salvage their marriage invites three other couples to join them at a tropical island resort. Upon arriving at the island paradise to enjoy some carefree fun in the sun, the other couples are disturbed to discover that participation in therapy sessions is mandatory if they hope to remain at the resort. Peter Bilingsley directs a comedy penned by Jon Favreau, produced by Vince Vaughn, and pairing the two Made collaborators onscreen with co-stars Jason Bateman and Faizon Love. ~ Jason Buchanan, All Movie Guide
Director: Peter Bilingsley
Release Date: Oct 09, 2009
Rated PG-13 for sexual content and language
Runtime: 1 hr. 47 min.
Genres: Comedy
Cast: Vince Vaughn, Jason Bateman, Faizon Love, Jon Favreau, Malin Akerman.
Review:
Vince Vaughn and Jon Favreau have written some strong comedies in the past which makes this totally inert and neutered film a real head scratcher. Peter Bilingsley, Ralphie from A Christmas Story, provides fairly generic direction throughout and does a nice job of capturing pretty vistas once they move to the island. His pacing could use some work as the film seems to have very little flow or momentum. It doesn't help that the script provides some of the blandest and most generic types for each of the couples. All of them are instantly recognizable and they wouldn't do anything that surprises you throughout. It's a real shame considering the comedic talent on hand. The cast just goes through the motions, only rarely delivering more than slight chuckle. Making matters worse this film is overly long, so much so that once we get to the final act you just want it to be over because the laughs have long since disappeared.
D