Saturday, April 10, 2010
IN THEATERS
DATE NIGHT
This action comedy tells the tale of mild-mannered married couple Phil (Steve Carell) and Claire (Tina Fey) who fear their relationship may be falling into a stale rut. During their weekly date night, they impetuously steal a dinner reservation, which leads to a case of mistaken identity. Turns out the reservation was for a pair of thieves, and now a number of unsavory characters want Phil and Claire killed. If they can survive a wacky life-threatening night, they may just rediscover the passion missing from their marriage. Directed by Shawn Levy. Mark Wahlberg, James Franco, and Kristen Wiig co-star. ~ Perry Seibert, All Movie Guide
Directed by Shawn Levy
Cast: Steve Carell, Tina Fey, Mark Wahlberg, Taraji P. Henson, Jimmi Simpson.
Release Date: Apr 09, 2010
Rated PG-13 for sexual and crude content throughout, language, some violence and a drug reference
Runtime: 1 hr. 28 min.
Genres: Comedy
Review:
Date Night is unapologetically broad in its laughs and if it weren't for the excellent comedic talents of Tina Fey and Steve Carell it'd probably be kind of unbearable. Shawn Levy has made a career of making broad easy to consume comedies and he doesn't change his stripes here. The jokes and situations are mostly paint by the numbers. Its fun light entertainment that keeps you mostly entertained with only occasional moments of tedium. Carell and Fey keep you interested with their strong dynamic and experienced talents. Carell brings a tenderness and earnestness to his character along with the expected goofiness. Fey is sharp and quick witted always keeping the interplay lively and energetic even in clichéd segments. Mark Wahlburg, James Franco, Mila Kunis, William Fichtner and Ray Liotta all have fun little cameos with characters that are goofy send ups of their usual roles. Date Night is the kind of movie that easily forgettable but never terrible. Considering Carell and Fey strong chemistry it would be nice to see them work with a more talent director and concept. For the time being this little nugget will work well as an appetizer.
C+
ON DVD
THE FOURTH KIND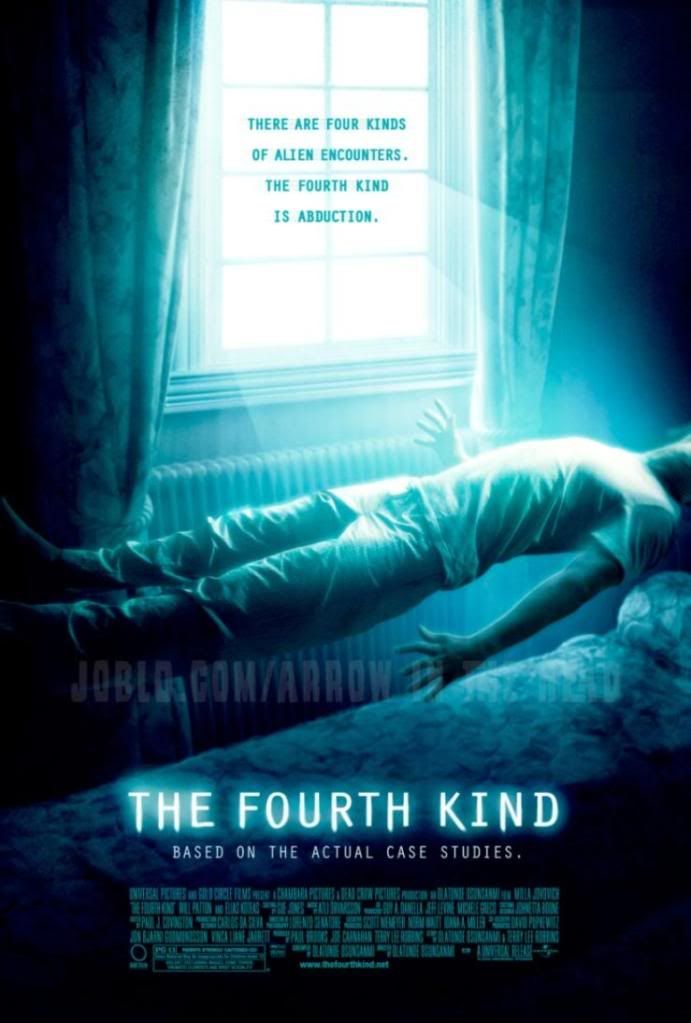 Set in the fall of 2000 and purportedly based on actual events, The Fourth Kind stars Milla Jovovich as Dr. Abigail Tyler, a Nome, Alaska-based psychotherapist whose videotaped sessions with her patients offer the most compelling evidence of alien abduction ever documented. Elias Koteas and Will Patton co-star. ~ Jason Buchanan, All Movie Guide
Directed by Olatunde Osunsanmi
Cast: Milla Jovovich, Elias Koteas, Will Patton, Hakeem Kae-Kazim.
Release Date: Nov 06, 2009
Rated PG-13 for violent/disturbing images, some terror, thematic elements and brief sexuality
Runtime: 1 hr. 38 min.
Genres: Thriller
Review:
The Fourth Kind is the type of film that has an interesting approach to what is a fairly well worn genre. Sadly, director Olatunde Osunsanmi shows his inexperience throughout and presently he doesn't have the talent to make the concept a cohesive believable whole. It's a shame because he has an interesting style that's aggressively interesting and he does have a few inspired moments which impress. Unfortunately, those moments are few and far between and he fails to achieve the most important thing necessary here, credibility. The film, it starts with Milla Jovovich telling you this is based on true events, demands that you have some level of belief in the proceedings for it to effectively creep you out. Instead everything comes off as fake and manufactured especially the purported "real" footage. The cast across the board is stiff and unconvincing the reenactments never feel any better than old Unsolved Mysteries shorts. It's all kind of a uneven hodgepodge of ideas that never reach the mark. Films like Communion and Fire in the Sky do a better job with this genre. Not a great sign when the latter is a fairly laughable Walken vehicle.
D
FANTASTIC MR. FOX
A wily fox uses his formidable cunning to outsmart three feeble-minded farmers, who resort to extreme tactics to protect their chickens in director Wes Anderson's animated adaptation of the popular Roald Dahl children's book. For 12 years, Mr. and Mrs. Fox (voices of George Clooney and Meryl Streep) have lived a peaceful life in the wilderness with their son, Ash (voice of Jason Schwartzman). Shortly after their young nephew Kristofferson (voice of Eric Anderson) arrives for a visit, Mr. Fox's long-suppressed animal instincts begin to take over and the faithful family man resorts back to his old ways as a cunning chicken thief, endangering not only his family but the entire animal community as well. When evil farmers Boggis, Bunce, and Bean force the animals underground in a desperate attempt to capture the audacious Mr. Fox, dwindling food supplies force the frightened animals to band together in one last attempt to fight for the land that is rightfully theirs. Bill Murray, Michael Gambon, Willem Dafoe, and Owen Wilson provide additional
Director: Wes Anderson
Cast: George Clooney, Meryl Streep, Jason Schwartzman, Bill Murray, Wallace Wolodarsky.
Release Date: Nov 13, 2009..
Rated: for action, smoking and slang humor
Runtime: 1 hr. 27 min.
Genres: Comedy
Review:
It's rare that you find such a charming piece of filmmaking that keeps you smiling throughout via its wittiness and emotional highpoints. There is something incredibly quirky and heartfelt in all of Wes Anderson's films and this stop motion isn't any different. Proving that he can work his magic on stop motion dolls as effectively as his live actors, Anderson breathes life into these characters and plot almost from the instant they hit the screen. It's no small task and he makes it seem utterly effortless throughout. The A list voice cast is up to task as well. Clooney provides just as much as charisma and sentiment as he did in Up in the Air. Meryl Streep's work is graceful as ever providing Clooney's titular character his moral center. Jason Schwartzman is wonderfully understated and heartfelt. The story, adapted from Roald Dahl's children's book, is just as smart as it should be, something the will give both adults and children something to enjoy. Fantastic Mr. Fox is a stellar achievement in film making and something that should be enjoyed by all.
A