Sunday, March 14, 2010
IN THEATERS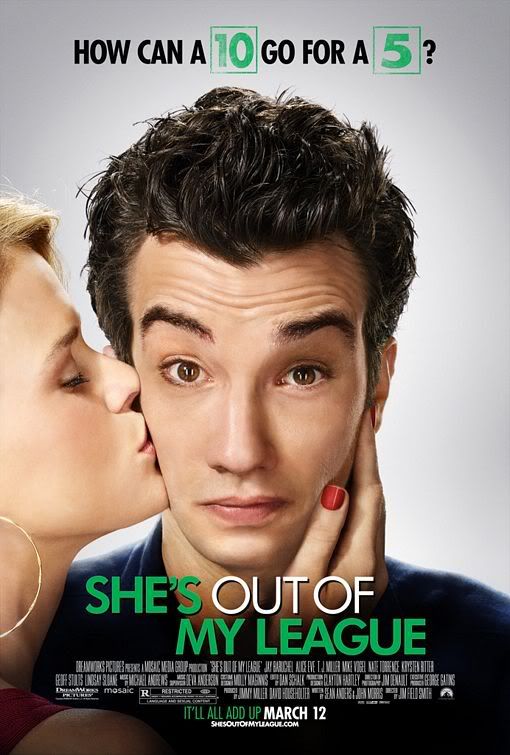 SHE'S OUT OF MY LEAGUE
An airport security guard gets involved with a girl who's very obviously of a higher caliber than himself, and schemes to make the relationship last as his friends and family watch along in disbelief. Kirk (Jay Baruchel) was languishing in a dead-end job as an airport security agent when he somehow managed to earn the affections of the successful and drop-dead gorgeous Molly (Alice Eve). Even Kirk isn't exactly sure what Molly sees in him, though he's willing to do whatever it takes to make the relationship work. With his friends, family, and ex-girlfriend all watching stunned from the sidelines, Kirk discovers that he'll have to work overtime in order to convince Molly that he's worth hanging on to. ~ Jason Buchanan, All Movie Guide
Director: Jim Field Smith
Cast: Jay Baruchel, Alice Eve, T.J. Miller, Mike Vogel, Nate Torrence.
Release Date: ..Mar 12, 2010..
Rated R for language and sexual content
Runtime: 1 hr. 44 min.
Genres: Comedy, Romance
Review:
She's Out of My League is generically written beauty and the geek rom-com that's held together by its cast. The script hits all the major bullet points for these type of movies and we've seen the plot and characters before. The story follows a fairly pedestrian path and director J.F. Smith adds little to no visual flair to any of the proceedings. The relationships, the main one in particular, are sketchily supported and leave you wondering why these characters actually hang out together or date. The film's strength is its up and coming cast led by Jay Baruchel. Baruchel has his measured type of comedy down, something he's refined in supporting roles. There's something both believable and charming about his quirkiness. Alice Eve, who looks like a miniature Christie Brinkley, is pretty flat and fails to make much of an impression. T.J. Miller does solid work as the prototypical loud mouth friend. Krysten Ritter does equally impressive as the female version of T.J. Miller character and both could have used a tad more screen time. A handful of inspired interactions make the film fun but nothing extraordinary. A fun little twist on the airport rom-com finale staple puts a nice little bow on this generic comedy.
C+