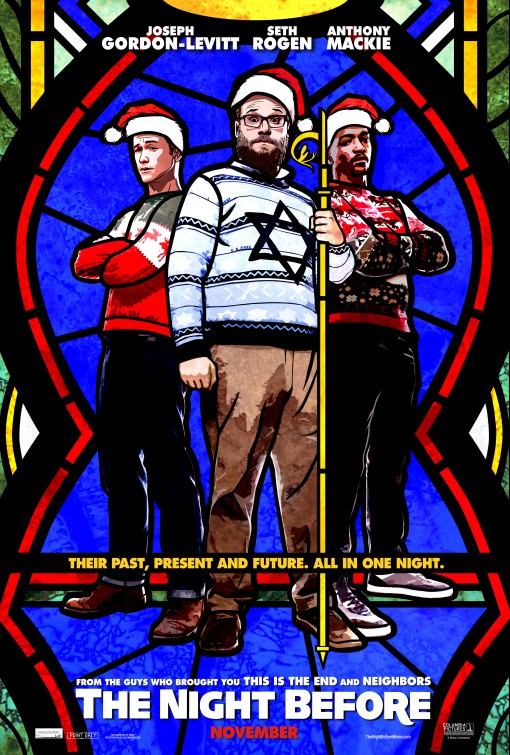 Every Christmas Eve for the last decade, best friends Isaac (Seth Rogen), Ethan (Joseph Gordon-Levitt), and Chris (Anthony Mackie) have reunited for a wild night on the town in New York City. But since the guys are getting older and have to face new responsibilities, their tradition is about to come to an end. As a result, they plan one last epic night together, which includes finding their way to a legendary party called the Nutcracka Ball. Lizzy Caplan, Miley Cyrus, Mindy Kaling, Jillian Bell, and Michael Shannon co-star. Directed by Jonathan Levine. ~ Jennifer Lackman, Rovi
Director: Jonathan Levine
Cast: Joseph Gordon-Levitt, Seth Rogen, Anthony Mackie, Lizzy Caplan, Michael Shannon.
Release Date: Nov 20, 2015
Rated R for
Genres: Buddy Film, Holiday Film, Comedy
Review:
The Night Before is a solid stoner comedy that never really hits its marks consistently enough to elevate it above better comedies of its ilk.
Jonathan Levine moves his film along at a brisk pace which helps when we run into one of the many dead spots in the film.
When it hits its mark it's really funny with Seth Rogen and Michael Shannon delivering the best bits.
Joseph Gordon-Levitt and Anthony Mackie are decent but they don't quite have the comedic timing that Rogen pulls off so well.
The film is pepper with plenty of comedy stalwarts and each takes advantage of their time on screen.
It has all the hallmarks of what should be a classic comedy but it just never gets there for some reason.